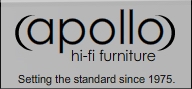 Apollo Hi Fi Furniture
official Website: http://www.apollohifi.co.uk/Home/Home.html
Apollo have been designing and building AV/Hi Fi Furniture and Speaker Stands here in our UK factory in the heart of the Black Country which is renowned for its engineering prowess since 1975. In the beginning we understood and realised that by lifting a speaker you lifted the quality of the sound.
We didn't stand still however,
We're constantly developing and refining our designs to provide some of the finest speaker stands, hi-fi and audio visual supports available anywhere in the world.